The Ultimate Guide to Tinder in Colombia | What You Must Know
When I first started using Tinder in Colombia, things didn't happen as I expected.
Hell, far from it.
Here's the story:
I checked my Tinder inbox. I had a reply from a Colombiana:
Jajaja me encanta tu humor. / I love your sense of humor.
I don't know what I had written that was so funny. I was just using the Tinder lines in Spanish that I always used.
But this girl loved me.
I had only been in Bogota one week, and I had been swiping like hell on Tinder. Most of my matches were either flaky or uninterested. Or both. This was the girl first girl that was super into me.
So I set up a date with her the next day.
I told her to meet me at six outside my local mall. The mall was a five-minute walk from my apartment. If she was down for a trip to pound town after the date, it would be easy to take her back to mine.
That ended up being the case.
But not like I hoped.
The next day I was at the mall at 5:55. And I had a problem. I had chosen as my date spot one of the biggest malls in Bogota. A mall that has 6 entrances. And they were spread out this 4-story building.
I'd only been in the country three days and I didn't have any data on my phone yet. I was furiously wandering around the mall trying to pick up the WiFi signal. I asked a surly security guard if he knew the name of the network.
He either didn't know. Or didn't want to tell me. Probably the latter.
So I waited outside the main entrance and crossed my fingers.
Ten minutes passed – no sign of her. So I walked to a smaller entrance at the back. Not there either.
She was either waiting for me at another door, or I'd been flaked on.
I went to the exit of the underground parking lot.
I spotted her as I walked out into the fading daylight. She has had her back to me, wearing tight jeans and a short yellow tank top that exposed her midriff. She had long, greasy, black hair.
Plus, she looked like a costeña, a girl from the coast of Colombia.
I tried to approach her from the side so not to scare her. Blindsiding a solo girl is not a good idea in Bogota.
She smiled big. Colombian girls get all get braces when they're young. Kiss on the left cheek and on the right.
"Que haremos?" /What shall we do?
She looked at me with big brown eyes.
"Quiero hacer unas compras" / I want to do some shopping.
She thought that was a great idea. We went to the Levi's store. I tried on a pair of 501's and called her to the fitting room. I was shirtless showing off my abs when I showed her the jeans and asked how they fit me.
Two more tries later and a new pair of jeans in hand, I told her I was thirsty.
She suggested going for a drink. She wanted me to try a Lulo juice.
That's why I had come to Colombia: to taste exotic fruits and even more exotic women.

"Vamos". / Let's go.
I had only been in town a few days I but I had memorized the steps from my place to the mall. I knew there was a juice place on the way.
Three minutes later we were already halfway to my place. I ordered a Lulo juice. She watched me stuck on my straw and asked me a ton of questions.
After finishing my drink, I paid, left a tip and asked her if she wanted to come to mine.
"Vamos".
Five minutes after we stepped into the the apartment, the mood changed. She seemed confused and sulky.
My Lucky Day?
I carried on playing it cool – it was driving her crazy. She wanted to know why I hadn't made any moves on her.
She sat on the bed. I sat on a stool. Finally, she stood up and pulled me into her. I went in for the kiss. I spun around so that my back was facing the bed. Then I fell back and pulled her on top. She rode me through my new Levi jeans for a few seconds. I grabbed the back of her head and pulled in her in for more tongue.
She stood up. I sat up on the bed.
She said:
"Vamos a hacer un juego" / Let's play a game.
It sounded like a line from that series of horror movies. I hoped she wasn't gonna make me find a key while getting my arm sliced off by a power tool.
Or whip out a special surprise ;(
She reached behind her neck and untied the strap of her tank top. She pulled it down and exposed her breasts. No bra. But there were two bits of sticky tape holding her tits up in the air. For a slim girl, these breasts were a decent size. Maybe D-cup.
She grabbed the back of my head and pressed me into her left breast.

"Chupala" / Suck it.
I did what she wanted. Soon she pointed me to the right one.
The nipple sucking game carried on for a while before I tried to escalate by undoing my new 501's.
Just then she tied up her tank top:
"Me tengo que ir" / I have to go.
She promised that we would carry on where we left off next time.
There was no next time.
A couple of days later I was comparing Colombia Tinder accounts with a gringo friend. I noticed that we had both matched with the sticky-tape tit girl.
Turns out he fucked her a few days before.
She told him after sex that he had to buy her dinner because he had treated her like a prostitute. So he took her to Subway and bought her a six-inch sandwich.
I had no desire to see her an suck on her nipples any more after that.
Why Tinder in Colombia Works
Well, that's a multi-faceted question right there. But I'll do my best to break it down for you.
First reason:
Tinder hasn't been ruined in Colombia… yet.
Tinder is tough in the developed world. Girls have unlimited choice and the 80/20 rule is real: the best-looking guys get most of the girls.
Tinder in Colombia is different.
Girls are kinder for a start. You'll get more matches and you'll have more pleasant chats with those matches.
Second reason:
You can practice your Spanish game without fear of real rejection.
Daygame in Latin America is hard if you don't know Spanish. Nightgame is hard if you can't dance.
And yet by using Tinder, you can start speaking Spanish to hundreds of girls today.
Third reason:
You can "meet" girls before you even arrive in the country.
If you're only staying in Colombia for a short time, you're under time pressure.
Tinder is the perfect tool to lay the groundwork before you set foot on Colombian soil.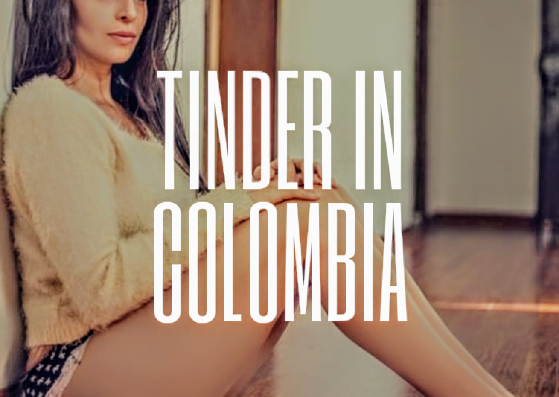 Best Profiles To Attract Colombian Girls On Tinder
Now, this isn't all stunning fake asses and rainbows.
Sorry to burst your gringo bubble.
But there's some bad news about using Tinder while in Colombia too.
Bad news:
Backpacking gringos have negative value in Colombia.
Blame the no-showering, flip-flop wearing fools who have passed through Medellin over the past few years.
Once you're done blaming, do this: show those Colombianas on Tinder that you're thinking of staying.
How?
Answer:
In your Tinder profile, mention your reason for being in Colombia.
For example:
En la ciudad por trabajo /In the country for work
That alone will ensure you get better matches. Even if it's a white lie.
Guys always ask, "What type of photos are best?" There is no one-size fits all answer. It depends on what your strengths are.
But I'll give you an example. I knew this guy in Colombia who got a boatload of matches on Tinder. He was an average-looking guy, but his photo gallery was on point:
One photo of him wearing a sharp suit
One photo of him playing beach volleyball, shirtless
Photo of him holding a puppy
One photo of him playing the violin
One photo of him at a family gathering
Tell the story of a healthy, outgoing, successful, caring, and curious guy in your photos.
You needn't go over the top here.
Just look attractive, active, and social when building your Tinder profile for Colombia.
Make sure you look as foreign as possible too.
Oh, and Spanish…
Showcase any Spanish speaking skills you have.
That's even more important than the photos.
What To Say On Tinder In Colombia?
Here's my golden rule for opening on Tinder in Colombia: Don't spam.
Do this instead: flip through her photos and have a quick read of her bio.
You're looking for hooks.
Here are a couple of example openers in Spanish:
The girl who has lots of travel photos:
También fui a (name of the place) hace un tiempo, cuándo fuiste tú? / I was in (name of the place) a while ago too. When did you go?
The girl who has connected her Spotify account to her Tinder:
Que buenos gustos musicales tienes! / What a great taste in music you have!
Spanish Or English?
Always Spanish… with one exception.
If she has written her profile in English, open in English. After a few exchanges, switch to Spanish to show that you're not a typical tourist.
If you're only using English on Tinder in Colombia, you'll meet cuntier girls.
Here's what I mean:
If she speaks English, you can guarantee she has dated lots of other foreign guys. If so, you have lower value in her eyes. You're interchangeable and expendable.
Note: In cities such as Medellin, Tinder has become overrun with prostitutes and transvestites. The quicker you can find this out, the less time you'll waste on Tinder.
So how do you find out?
A Colombian girl will be offended if you ask her straight out: "Eres prostituta?" so you need to broach the topic with subtlety.
To weed out the working girls, ask her early on about her job or studies. For example:
"Estudias o trabajas?" / Do you study? Or work?
Don't let her brush you off with a vague answer. Dig deeper to see if she's being evasive about telling you.
Using Spanish on Tinder in Colombia
Every foreign guy looking for love in Colombia uses Tinder. To beat all these guys, you need to do the two things I've recommended:
A bio that says you're not just passing through
Photos that tell an attractive story
Number 3…
Speak Spanish.
Like I said before, seaking good Spanish is the easiest way to rise above the competition on Tinder in Colombia.
Below is the only resource I recommend for getting your Español to conversational level:
The resource I recommend, Language Blend, gives you lines for flirting and seducing in Spanish.
If you want a language hacking guide that helps you get inside the head of a Latina and trigger her attraction switches, Language Blend is the program for you.
The course even has a section dedicated to gaming Latinas on Tinder. You can copy and paste these lines into your smartphone to skyrocket your number of matches.

The Ultimate Guide To Tinder In Colombia
Using Tinder in Colombia is the fastest, cheapest, and most efficient way to find attractive girls and get their phone numbers.
But to get the most out of this tool, you must understand the psychology of Colombianas, and use language that connects with them emotionally.
If you don't take the time to master Colombia Tinder game, you'll end up frustrated and dateless…
And that shouldn't happen to any man in Colombia.
About the Author
Living and traveling around Latin America, Papi Chulo learned a thing or two about dating stunning Latinas. Now, he's sharing that information with the world. If you've ever wanted to meet stunning, exotic women - the time is now!