How to Meet, Seduce, and Date Girls in Bucaramanga, Colombia
Curious about Bucaramanga girls?
In this article, I'll explain why Bucaramanga can be a great option for men looking for attractive Latinas who haven't seen many foreign guys in their time.
There are a few reasons the Bucaramanga women remain untapped and unspoiled.
One is that the city is relatively isolated and not easy to get to. It's hidden in the mountains of the Santander region. One of Colombia's lost cities.
Well, "lost" might be an exaggeration. "Unknown by outsiders" might be more accurate.
If you see yourself as a pioneer of love tourism, Bucaramanga could be your "El Dorado" – the city of gold. Very few men travel here to date some "Santandereanas" – local word for women from the area.
"Buca" could be the city that Medellin used to be a few years ago.
Read on to learn how to get laid in Bucaramanga, Colombia and why you should visit soon before words gets out.

---
Colombia Casanova Rating
Looks of Bucaramanga Girls: 3.5/5
How Easy Are Bucaramanga Girls: 3/5
Bucaramanga Overall: 3.5/5
---
Breaking Down Bucaramanga
Population: The city itself has around 500,000 people. Pretty small. But some sources include the neighborhoods of Floridablanca, Girón, and Piedecuesta. That brings the total population to near one million for the metropolitan area. Sounds better, right?What does the number of inhabitants mean for guys who want to explore the local dating scene?It means there are just enough women in Bucaramanga to make visiting worthwhile. There will be female options on the dating sites. But there are some downsides to cities of this size: the nightlife can be slow, and you don't have the density of women that you do in larger cities.
Safety: Bucaramanga is the eighth biggest city in Colombia. And it's by far the safest in those eight. However, remember that you're still in Latin America and should take precautions like you would in Ciudad Juarez. Be vigilant and don't bring expensive electronics with you. If you do, leave them in your hotel or apartment. During my time in Bucaramanga, I never felt unsafe, but I stayed in the nicest area of the city and didn't walk around El Centro at night alone
Climate: Want more good news? Bucaramanga has one of the best climates in all of Colombia. The temperatures average in the 80's all year round. Think Medellin, but slightly hotter and more humid. The weather in Bucaramanga is much fresher compares to the unbearable heat on the Caribbean coast. And yet it's far warmer and drier than Bogota.
Tourism: Bucaramanga is famous for two things: parks and food. The city is nicknamed "La Ciudad de Los Parques" (The City of Parks) – there are over 160 of them. If you want lots of green around you without being stuck in the country, Buca is the perfect blend of city life and nature. Colombians are proud of their food – Santandereanas are even more so. If gastronomy and parks are not your thing, nearby San Gil is the extreme sports capital of Colombia. Here you can get your adrenaline fix doing kayaking, bungee jumping, paragliding, white water rafting, etc.
Cost of living: Due it's lack of popularity with tourists, Bucaramanga is significantly cheaper than both Bogota and Medellin. For a furnished, 1-bedroom apartment expect to pay near $600 p/m if you're staying a short time and searching online. If you stay in the city longer and find your lodging through a local, you can get that figure down to near 400. Like the rest of Colombia, the cost of groceries, eating out, haircuts, etc. varies by strata – sector or neighborhood.
What do Bucaramanga Girls Look Like?
I guess you didn't come to Colombia to find pasty white women.
But if you did, Bucaramanga is the best city in Colombia for you. Santander has a long history of European immigration, especially German.
Bucaramanga girls have a similar look to Medellin girls is but with less plastic surgery and makeup.
Walking down the streets of Bucaramanga you won't see the head-turning stunners you'll see in Cali or Medellin.
But the city is great for guys who like lighter-skinned Latinas.
The girls are cute and just a bit more wholesome than your general fare in Colombia. These girls look like ideal girlfriends to me.
Bucaramanga girls are highly attractive – but a little different looking than your general Colombiana.
Where to Stay in Bucaramanga
There is only one area I recommend:
Cabecera.
Also known as Cabecera del Llano. It's the upscale area of the city and most of the nightlife options are nearby.
Here you'll also find gyms, cafes, and so much more. It's by far the most livable area in the city and every girl in Bucaramanga will be willing to come here for a date and/or nightcap with you.
Just note that…
Getting your bearings in this mountain-side city can be difficult – you feel as if you're constantly walking uphill/downhill.
Staying near the Cacique Shopping Center is also acceptable, especially if you're doing a lot of online dating. But there's not a ton outside the actual giant mall.
I still prefer Cabecera.
Sex in Bucaramanga: Is it Difficult?
Bucaramanga women may look like Paisas, but they're not as easy.
At least not for me…
Bucaramanga girls have a rivalry with Medellin girls and do their best to be different, i.e., dressing up less and being more difficult to get into bed. Add the conservative small town values and you can see how quick sex is difficult in this town.
But the upside is that Bucaramanga girls are less superficial and money hungry than other Colombian women.
If you put your time in building a social circle, you can do well here.
But don't expect fast sex like in Bogota and Barranquilla.
This isn't a city where you stroll in and rack up dozens of dates in your first week. You'll have to work a little bit more for sex in Bucaramanga. I found it to be worth it though.
How to Get Laid in Bucaramanga, Colombia
What most of you came for…
The rice and beans of how to get laid in Bucaramanga, Colombia – an underrated Colombian city to say the least.
Let's take a look:
Girls in Bucaramanga are avid Tinder users and you'll get a surprising number of matches there due to the low level of gringo competition in the town.
The issue is there's simply not the volume on Tinder to keep you entertained for more than a week or two.
When you run out of swipes on Tinder, jump on Colombian Cupid and narrow your search down to the Santander region.
You'll find more girls who want a serious relationship on here.
You also find way better volume on Colombian Cupid and Latin American Cupid – many Venezuelans on the latter.
You would expect a town with many parks and colleges to be a daygame mecca. But the reality is a little more complicated.
Yes, you'll see a lot of girls around the parks and the main street in Cabecera – Carrera 33 – during the daytime. These are usually large groups so you'll need advanced Spanish and day game skills.
You don't see a ton of girls walking alone here.
Plus, Bucaramanga girls are not as open and friendly as the costeñas.
Here are some of the parks to scope out for sunup approach opportunities:
Parque Santander
Saint Pío Park
Bolivar Park
If you want to check out the schools, Universidad Industrial de Santander and Universidad Autónoma de Bucaramanga are the two main colleges. But being a big engineering school, most of the girls are geeky rather than gorgeous.
Bummer.
Find a beauty school instead.
If you want to head inside, there are plenty of malls in Cabecera:
La Quinta Centro Comercial
Centro Comercial Cabecera Cuarta Etapa
Cacique Shopping Center and Megamall are a little further away but are both large malls with lots of female targets.
Bear in mind, these malls are dead during the week so focus on the speaking to the girls working at the stores.
After five pm, you'll find more foot traffic.
As with anywhere in Latin America, the best times to day game during the week are when girls are going to or from school or work.
As you expect from a smaller Colombian city, Sunday through the Thursday has little going on. Use the midweek downtime to focus on your dates from online and day game leads.
Take her out to eat some large ant butts. Not joking.
Friday and Saturday night have some options. Here are the best clubs in Bucaramanga, in order of recommendation:
Sky Bar – Trendiest in the city. As you'd expect from the name, great views of the city.
Vintrash Bar – plays Latin, electronic and top 40. More for the younger crowd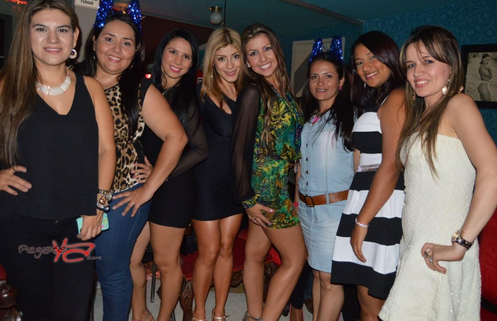 Speaking Spanish in Bucaramanga
Spanish in Bucaramanga is a must.
I'm not going to beat around the bush here.
This isn't a place to spend a lot of time without some Spanish speaking skills – especially if dating is on the docket for you.
Most college-aged girls here are studying Engineering not English.
Also, there aren't many tourists around so you won't find maybe people who need to speak English for their job.
Go to San Gil for that.
I recommend two Spanish courses depending on your goals.
Synergy Spanish is great for guys who want to deep dive in the to the Spanish language. Study Synergy Spanish for three months and you'll be conversational.
Pickup Spanish is more for guys who want to use Spanish to get a date. This course teaches you how to flirt and get the girl to meet up. From there you can practice with the hot Santanderana in front of you.

---
Dating in Bucaramanga | Your Detailed City Guide
If you're tired of the noise, crime, and chaos of Cali, Bogota, and Cartagena – Bucaramanga will be paradise on the side of a mountain for you.
It's the most liveable city in Colombia for people who prefer small cities.
It has the highest GDP in Colombia, high literacy rate, low unemployment, great weather and low cost of living.
Green, clean and great for eating.
It's the ideal city if you want to live the good life with one special Colombiana. And girls in Bucaramanga will make it worth your while!
Enjoy the weather and the low cost of living. But if you want to enjoy yourself and explore your dating options, there are better cities in Colombia.

About the Author
Living and traveling around Latin America, Papi Chulo learned a thing or two about dating stunning Latinas. Now, he's sharing that information with the world. If you've ever wanted to meet stunning, exotic women - the time is now!